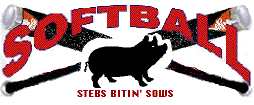 The Steb's Bitin' Sows awards banquet was attended by around forty great fans, friends and players of the softball team. We had a great time like only good friends can. Below are a number of images of the evening. This page might take a little while to load up. Be patient.
Here Brock receives his award recognition and immediately hyperventilates. Tony holds the big stud up. He had to sit in Mistee's lap the rest of the evening with a brown paper sack over his head.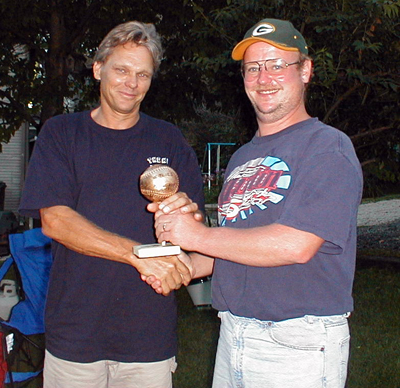 Dave was almost stolen from right under our noses earlier this year. The New York Yankees offered Dave cash and women in what can only be called strongarm tactics. We finally prevailed and were able to hold onto Dave's contract. We could offer him more cash but we reminded him that we have the best looking female fans at the park. Dave is a great outfielder with an unorthadox style. Dave improved his batting average the most our of all the players this year.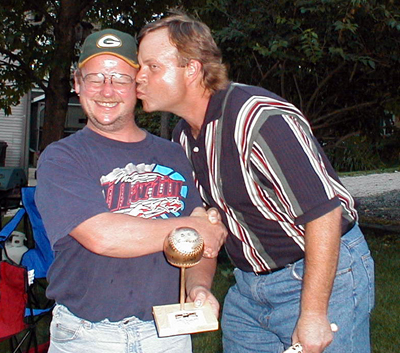 Part of the glue that holds this team together is a particular comradery that develops only when players have a long history together. One of the guys on this team that exemplifies this historical connection is Bob G. Bob has played first base for the Sows since the beginning of time. This year towards the beginning of the season, Bob struggled at the plate but through hard work and that nose to the grindstone sort of approach, Bob was able to raise his batting average 263 points. Wow! What a guy!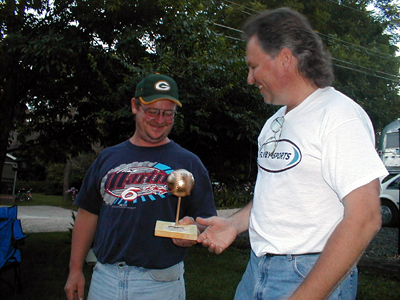 Bob L has performed many important tasks for the Bitin' Sows. Over the years, he has become our videoman, sub, batting instructor and overall athletic supporter. Bob, although on the injured reserve list, has come into our games in an emergency role a couple times with great success. We can't overuse Bob and we must be careful to conserve his softball karma. We really appreciate Bob L.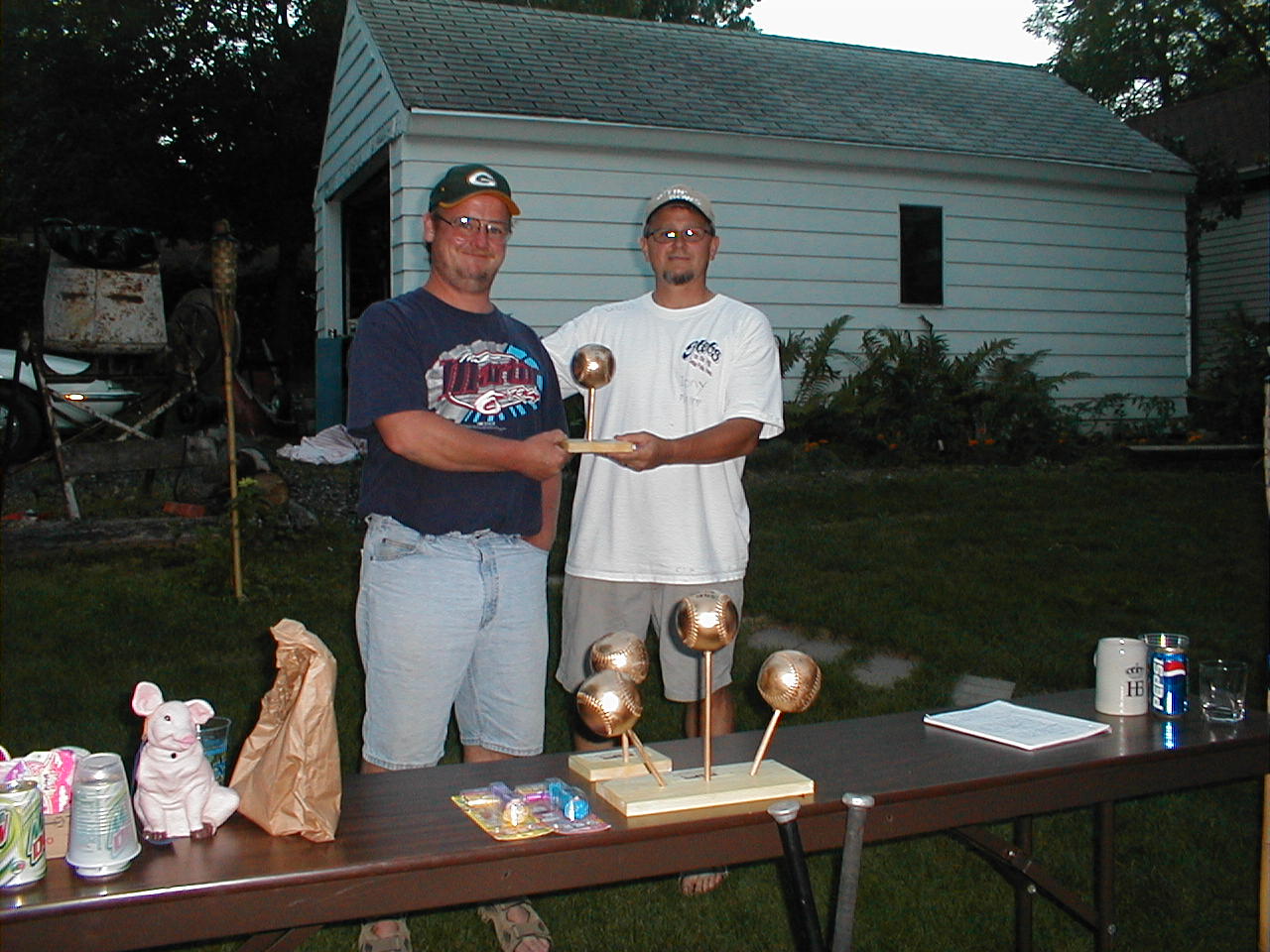 The Coaching duo of me and Tony helped bring the Sows a season with 6 wins. Tony is being groomed for the Head Sow job for the eventual day when I step off the coaching mound to dedicate my life to world peace and meaningless self-gratification. Tony and I worked hard on the awards banquet and had a great time doing it.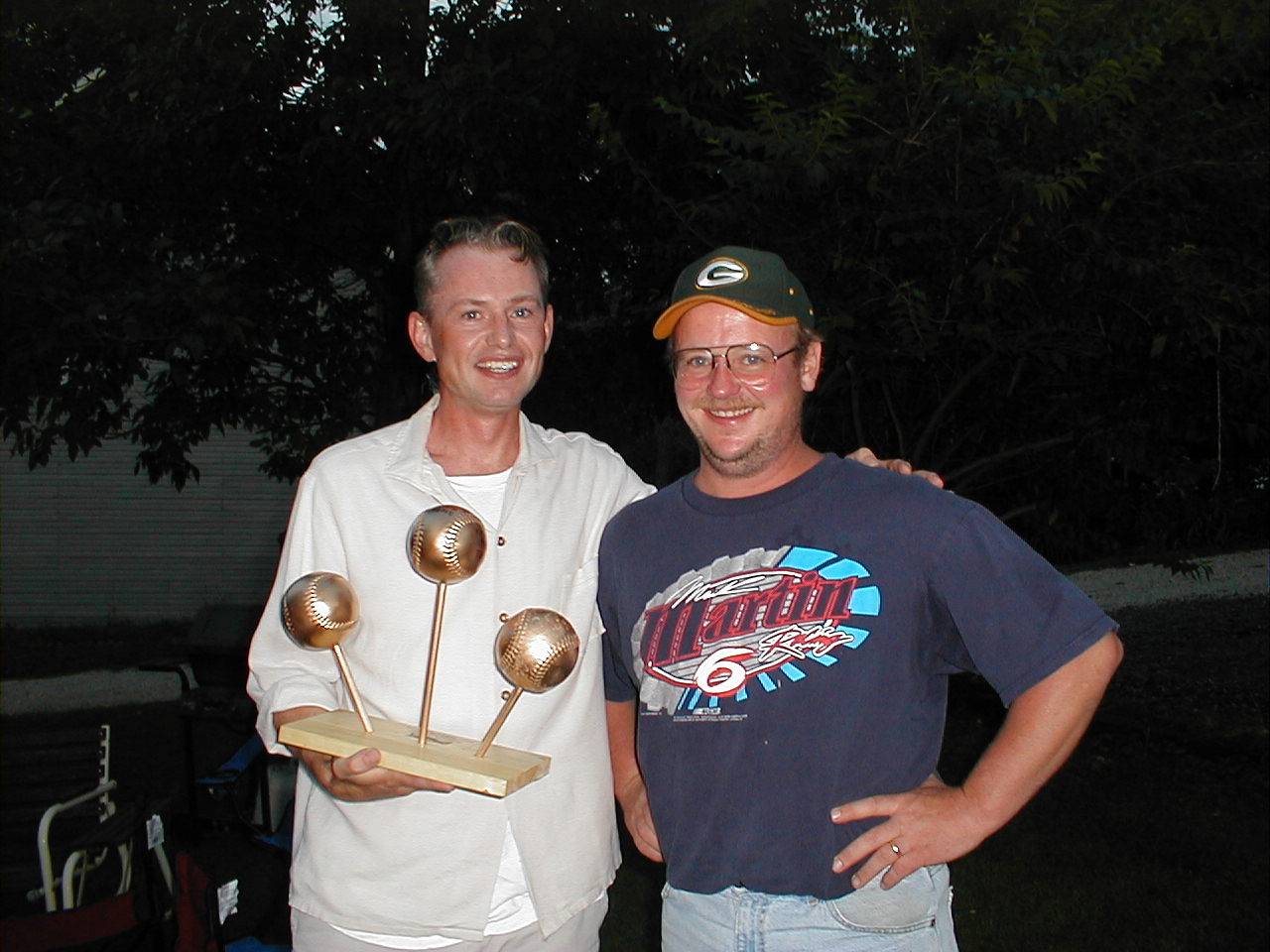 Kelly was awarded the MVP trophy this year. He had a 737 batting average, a homerun, 2 triples, 9 doubles and 22 singles. He also played a great leftfield position. Game in and game out, Kelly helps the Sows tremendously. He was also responsible for recruiting the Peeonme Award Winning writer o.campbellson.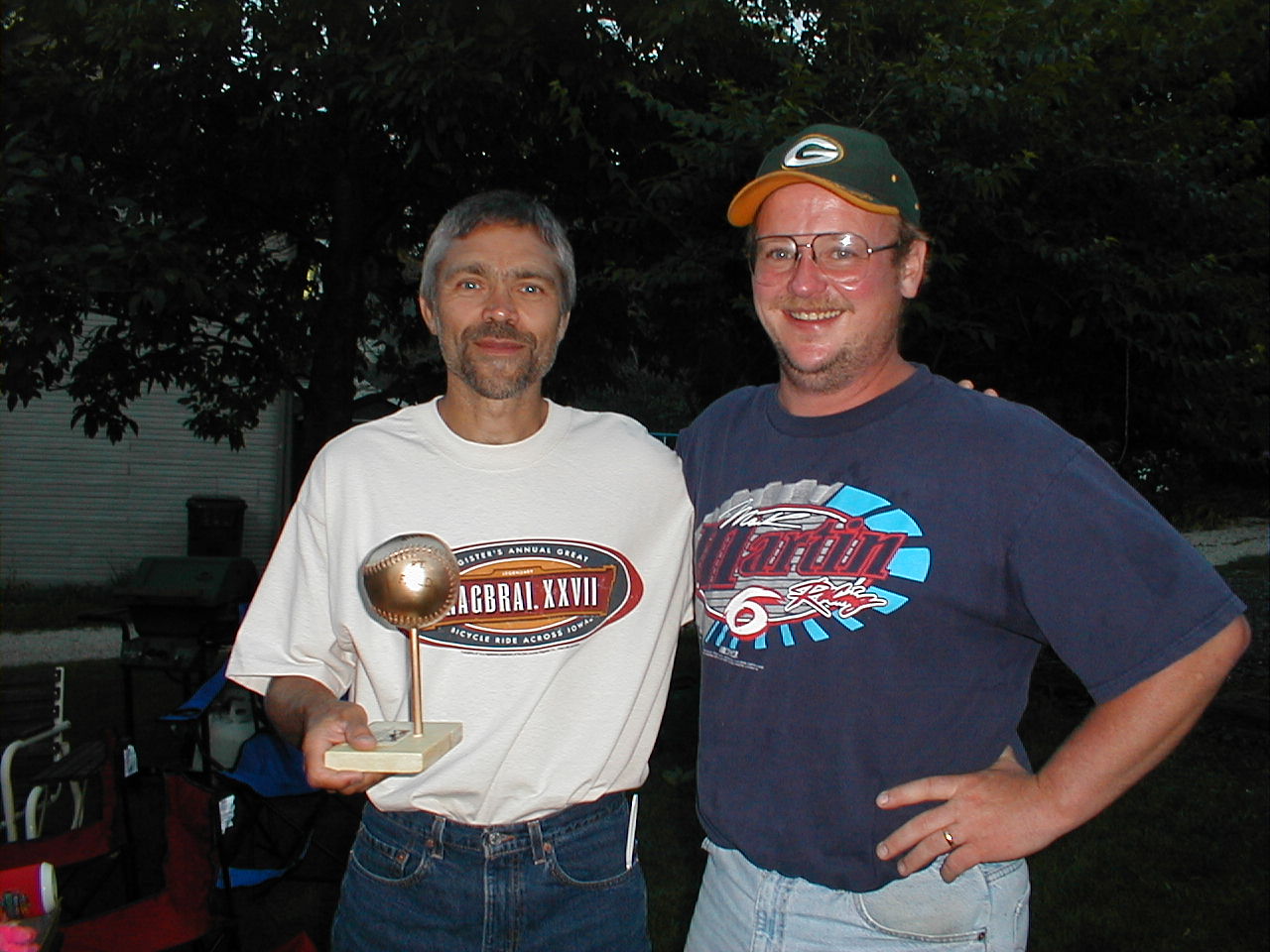 He lives in the woods in a little log cabin with his family someplace north of town. Chopping wood and trapping varmits has made him into a tenaciuous outfielder. Paul's the focal point of the dugout because he keeps the book and tells us how big our lead is or how many more singles we need to stay in the game. Paul is one of the original Sows. Long live Paul!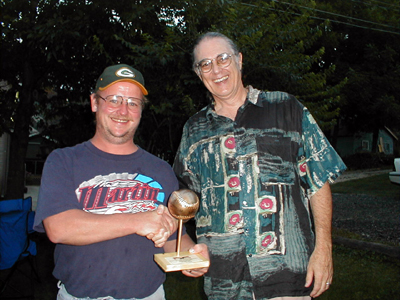 Seldom can a player be described as handsome and handy. John can also be described as steady, wise, considerate and competitive. He's an inspiration to all of us and it really makes me feel good to see him behind the plate.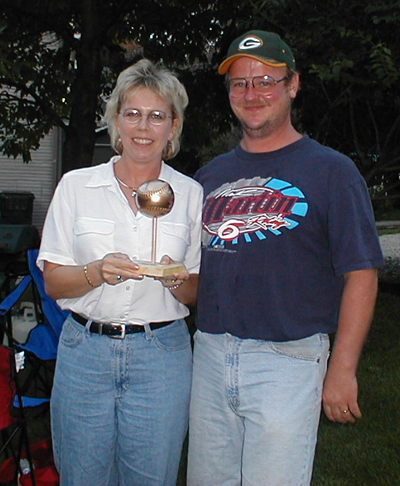 Avis plays an intregal role in the Sows organization. She helps warm the team up (get your mind out of the gutter) and keeps such an accurate score of the game, that the umpires depend upon her as their backup. She's great and we love her.